Vortex
The distance between two bodies with the same sexuality in public space.
What is the distance between two familiar bodies in the same space at the same time?
In this work, dance and sound are intertwined in an abstract world, where the essentials in one's daily life are felt. Human civilisation is constantly redefining what is legitimate or appropriate, when many of its preconceptions are rooted in ignorance. Humans, who have long been accustomed to constraints, have drifted away from their true selves. In this moment, can we contain the whole world in our enfolded existence, and open up the space for an expanding vortex or trajectory?
Choreographers and Dancer: Wayson Poon
Sound Artist & Composer: Peter Lenaerts
Dancer: Lo King-san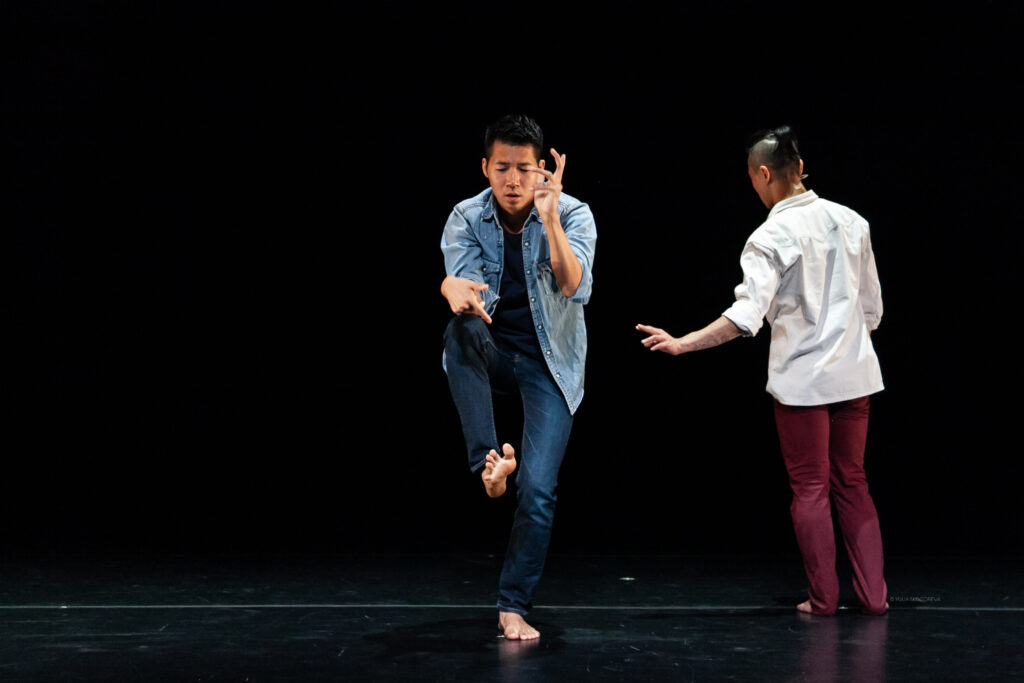 2018 Feb – Hong Kong Cultural Centre, Studio Theatre (part of the Hong Kong Arts Festival)
2018 Jun – Chengdu (part of Hello Chengdu Ufun Music & Art Festival)
2019 Mar – F Hall, TaiKwun, Hong Kong (part of the Hong Kong Arts Festival @Taikwun)
2019 Jul – Tianqiao Arts Center, Studio Theater (part of Beijing Dance Festival)
2019 Aug – Full Moon Dance Festival, Pyhäjärvi, Finland
2020 Feb – Yokohama Red Brick Warehouse No. 1 (part of HOTPOT – East Asia Dance Platform)
"The second night started with Wayson Poon's 'Vortex' an honest reflection of a personal story, where Wayson is not afraid to share his inner life. The construction is clean and consistent from the start to the end. Already the very slow fading of the audience lights sets the atmosphere and is a genius touch of how light should support a choreography. Wayson shows us his inner demons of choosing his life style against following tradition and family, his struggles and reasoning's to eventually chose his life.
Very well executed and consistent, here Wayson shows us he is a mature Choreographer that has outgrown the Springboard program. Bravo"
-by Kevin Polak
「在《渦》中,編舞盤彥燊嘗試建構「虛空」的美學,像中國書畫所重視的「虛實」般 ,編舞進一步把「虛」顯彰。音樂及聲音也遊走於這虛空之間,獨立地或與動作一起編織出新的意義。」
-《香港舞蹈手札》評論人 丘思詠
「看《渦》時,很能感受到音樂與舞蹈的相輔相成,關係密切,又或者如盤彥燊「編舞的話」中所言的「非此非彼」感覺‥‥‥台沒有戲劇化的事情和動作出現,但音樂與動作卻是充滿張力,叫人目不轉睛。有時聲音與動作甚至微細得需要聚精會神才能聽到。」
-《文匯報》評論人 聞一浩
Recorded & produced November 2017-February 2018
Mastered by 43'33″/Tim Bruniges
"Vortex" was commissioned and produced by the 2018 Hong Kong Arts Festival and was premiered as part of The Hong Kong Jockey Club Contemporary Dance Series