A Thread
A powerful dance performance exploring the concept of balance.
Choreographer Jean Abreu combines forces with renowned sculptor Elisha Bracher, to create a powerful dance performance exploring the concept of balance.
"Elisa Bracher proposed the materials that are the building stones of A Thread: trolleys, weights, cables, sheets of a lead and one huge leaden ball. The five original dancers (Maria Fonseca, Stephen Moynihan, Yuyu Rau, Rosana Ribeiro and Lewis Wilkins) engage with these materials in a continuous game of constructing, deconstructing and reconstructing. They are builders, movers, wanderers, witnesses who try to find their way out of the labyrinth they have constructed themselves. They walk, balance, carry, cover, take risks and work together. As in ancient performance traditions, the materials are interfaces through which their bodies connect energetically. Through the manipulation of the materials the bodies try to find their own centre to ground themselves.
A Thread is both choreography and installation that brings alive Louise Bourgeois' definition of the creative process: 'to do, to undo, to redo' as an artistic metaphor for our life's experiences: 'the weights we all carry in life and the centres of balance we are continuously looking for' (Elisa Bracher)."
Guy Cools, Dramaturg, February 2016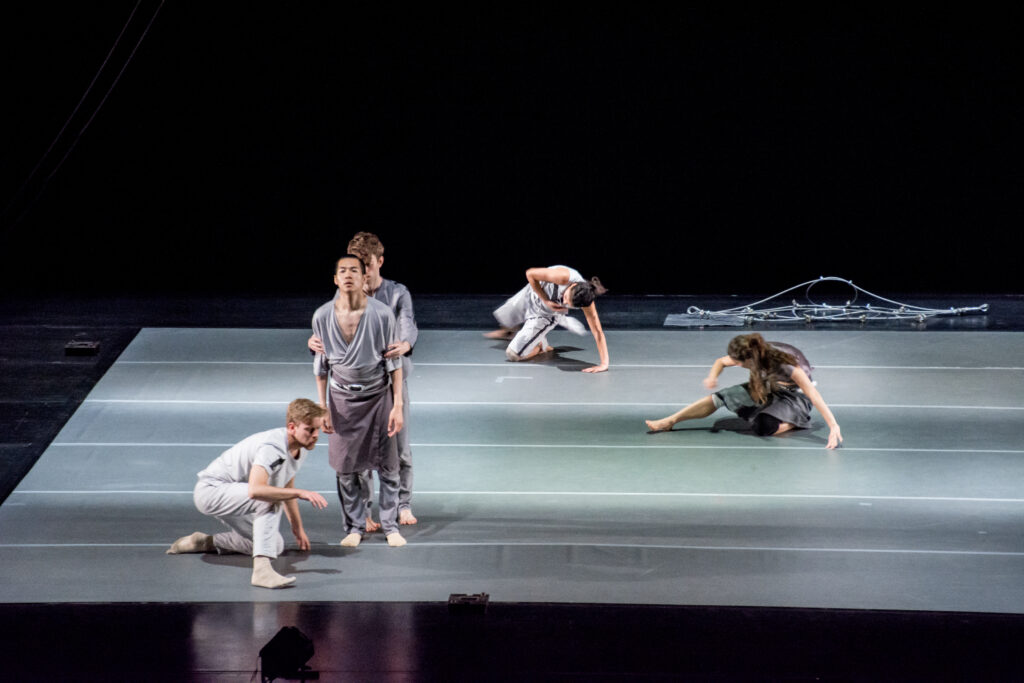 Photo (c) Jean Abreu Dance
Artistic Director and Choreographer: Jean Abreu
Artist and Sculptor: Elisa Bracher
Composer Heinali (Oleg Shpudeiko)
Dramaturg: Guy Cools
Rehearsal Director: Wayson Poon
Performers: Maria Fonseca, Stephen Moynihan, Rosana Ribeiro and Lewis Wilkins, Wayson Poon/Yuyu Rau
Costumes: Abdul Hamid
Lighting Designer: Lee Curran
Producer UK: Natalie Richardson for Konzept Arts & Ideas
Production Manager: Dom Martin for Blueboxx
"Expect palpable tension as a danced dialogue between bodies and materials opens up, revealing the relationship between individuals and the physical space they occupy"
— Teresa Guerreiro, Dance Editor, Culture Whisper
"Abreu's fluent style of choreography combined with some strong visual moments creates an engaging work, while the development of an on-stage installation gives A Thread an edge."
— Rachel Elderkin, Dance Writer
A Thread was supported by Balance Arts Centre China, Arts Council England, British Council Artists International Development Fund, Pavilion Dance Bournemouth, Bath Spa University, Lakeside Theatre Colchester, Swindon Dance, Bath Dance & Hat Factory, Luton.